BIOFTA
BIOFTA is a brand of Biodue S.p.A. at the forefront of R&D of ophthalmic products. A point of reference for the Italian ophthalmologist.
Highlighted products
Dry eye
Medical Device for ophthalmic application consisting of a sterile, slightly hypotonic saline solution with high biocompatibility and physiological pH with combination of medium molecular weight sodium hyaluronate and liposomes. Recommended to relieve from ocular redness, dryness and tiredness caused by dry eye syndrome.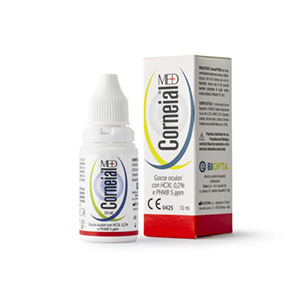 Hyaluronic Acid HCXL - PHMB
Corneial® MED eye drops are indicated to relieve eye redness, irritation, fatigue, itch and dryness also due to blepharitis, trauma and in the post-operative course of ocular surface surgery (cataract, refractive, IVT, etc.).
Macular degeneration and diabetes
TauRetina® is a nutritional supplement shown to provide a supplement of substances such as lutein and zeaxanthin, which are physiologically present in the retina in high quantities. Zinc contributes to the maintenance of normal vision and combined with copper, to the protection of cells from oxidative stress.
NEWS
ASTENOMIRT CVS
Astenomirt® CVS is a dietary supplement based on Taurine, Zinc and extracts of Blueberry, Saffron and Marigold. Blueberry, Taurine, Saffron and Marigold are useful for their antioxidant function and their benefits for the eyes, while Zinc helps to maintain normal visual capacity. Gluten-free. Naturally lactose-free.